Your Cart

Empty
Aspen Song Ultimate Blend Bird Seed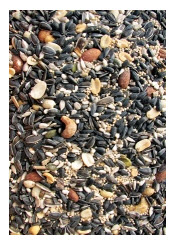 Broad Appeal Mixes
20 lb. bag
$ 35.00
| | | |
| --- | --- | --- |
| In Your Cart: | Update | updated |
Contains Over 60% Sunflowers & Nut Meats

For Those Who Prefer No Corn
100% Premium Ingredients
Attracts a Variety of Songbirds
No Filler Seeds

Size: 20 lb Polywoven
Size: 40 lb Polywoven


Ingredients:

Black Oil Sunflower
White Proso Millet
Black Stripe Sunflower
Peanuts
Sunflower Kernels
Safflower
Tree Nuts - may include:

Pistachios
Almonds
Cashews
Pecans

Shelled Pumpkin Seeds

What's the Right Bird Food To Use?

Aspen Song® Ultimate Blend is a rich mixture of the preferred seeds of backyard birds. It contains over 45% sunflower products and over 15% nut products. Ultimate Blend is formulated to attract the favorite feeder visitors and will keep them coming back for more.

Who Will Show Up at the Feeder?

The white proso millet will attract finches and native sparrows. Safflower and stripe sunflower will appeal to the grosbeaks and cardinals. Nutmeats are a sure magnet for the arboreal species including the woodpecker family.

What's the Best Feeder To Use?

Many different types of feeders will work including tube-style, hopper, and platform feeders.

Keep Them Healthy and Coming Back By:

Providing a fresh supply of water.
Placing feeders close to sheltering trees and shrubs.
Cleaning your feeders and birdbaths regularly with a mild bleach solution.
Raking up and removing seed hulls from under feeders

Guaranteed Analysis:

Crude Protein (minimum) 17.5%
Crude Fat (minimum) 22.9%
Crude Fiber (maximum) 17.3%

Allergen Statement:

This product is processed, packaged and/or stored in facilities that also may process, package and/or store peanuts, tree nuts, wheat, eggs, milk products and soy.
Not for Human Consumption.